---
Being a trader is arguably amongst the most difficult career paths one could have.
I mean.. the constant stress of working under conditions that are full of inconsistency and uncertainties.
I'm not sure if rocket scientists could do it.
Us traders are constantly being tested and how we react plays a massive part in our success in the market.
We may be swimming in a pool full of pips one day and be 50 feet down in the dumps the next.
There really is not much space to get comfortable for too long in the markets.
And that's one of the reasons why you need to develop a strong, positive mindset and a hell lotta confidence to make it.
It takes a lot of personal development to say the least.
Sometimes it may seem like the losses are overshadowing the wins and we start second-guessing ourselves.
Personally, I would be lying if I said that I never questioned why I got into trading. Especially when my hair started falling out.
But there is always a bright side of things and it's important you remember that when the markets start to get overwhelming.
It's crucial you make a conscious decision to be as positive as you can in thinking, acting, doing, and overcoming any setbacks brought on by the market.
So how can you achieve such a positive mindset? Let's explore below.
–
Start the day on a good note
Start every day by singing 'It's a new dawn, it's a new day, it's new life for me Uhuhuhuhuhuhuhuh and I'm feeling good' …. With enthusiasm!
No, but seriously, a healthy pre-trading routine is key!
Getting yourself in the right mindset especially before you start trading in the morning is a step in the right direction.
And if you don't like singing? You can listen to your favourite song, eat a nice breakfast, meditate, stretch … I could go on and on but you know what works best for you!
And whatever it is, do it! It will help you get in the right mindset and start the day with positive thoughts.
–
Say goodbye to negativity
Feeling riddled with negative thoughts?
Shake them off!
Easier said than done, I know but only YOU can change your negative thoughts.
Try approaching things with a positive attitude instead.
Remember, the market has its highs and lows. Your trading will have its ups and downs, too. And that's okay. Why?
Because losses are unavoidable. We all go through them.
It's about how you handle them. So don't let them overwhelm you and affect your trading. Instead, focus on the good and remind yourself of the reasons that first led you to start trading.
Motivate yourself and stick with it!
Here are some of the positive affirmations we use when trading:
• I will manage my trades properly
• I will not be influenced by greed, I would rather trade safely
• I will respect my trading strategy
• I know trading is not easy but I can master it
–
Bring on the good vibezzz
To develop a positive trading mindset, you need to practice positive thinking.
A good way to become a positive thinker is to surround yourself with other positive traders. Perhaps you could find them in our Trading Room?
Speaking positively about the market, your trades, market events will all fill your head with positive thoughts and ideas about the market.
Whereas negative talk will only hinder your potential as a trader and prevent you from growing.
Try your best to overcome the obstacles of the market and see them as opportunities to succeed instead.
Dealing with these obstacles properly will help you grow as a Forex trader and will go a long way in your overall success as a Forex trader.
Good vibes only!
Consistency and a positive mindset matter. Why?
Traders with a positive mindset are more likely to make confident trading decisions.
You will also learn that a positive mindset will enable you to see things clearer, and help you analyse your trading process, attitude and actions better.
However, the opposite is true of negative traders with fearful, greedy and overall emotionally-driven mindsets. These types of traders often exhibit problems like risking too much money, using too much leverage and simply not learning from their mistakes.
Take a look at this quick comparison between being a positive trader and a Negative Nancy.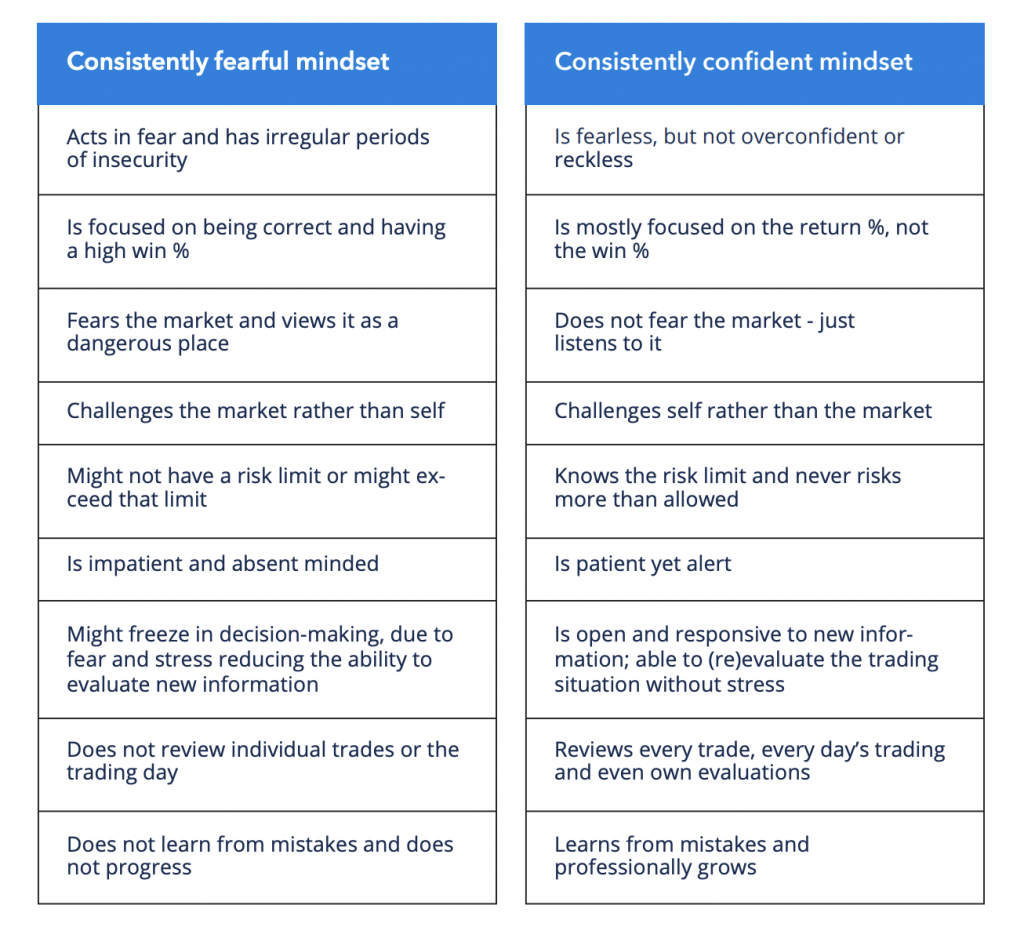 –
Wrapping up
Thinking and being positive in your trading will take you a long way. Start with small changes and watch your trading world changed for the better.
And whilst being positive doesn't guarantee success, it does put you in the right mindset needed to win your trades.
And in the cutthroat jungle that the Forex market is, take every advantage you can get.